New Season Coaching Offer

If you want to hit more fairways, hole more putts, chip it closer and have more fun in 2016 well here at the AIZ we have come up with a great offer to help you achieve this.

Improvement Offer

Book Four x 30min lessons and receive a Six Hole Playing Lesson FREE worth up to £65.00.

Lessons & Playing lesson should be taken before the end of March 2016.

The AIZ sends brief interesting e-mailed reminder notes after each lesson. Examples seen below.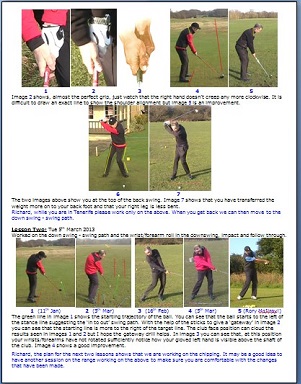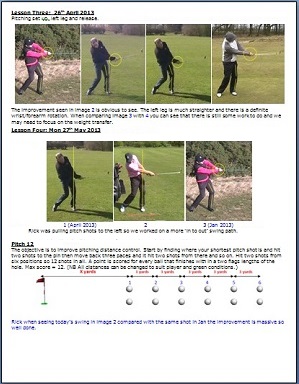 If you would like to book a lesson package or have any questions regarding one please click here.
James Espley's Review of the 'New Season Coaching Offer'

Last week, I had the great pleasure of getting out on the course and watching James play some holes. He had taken me up on the FREE Six hole playing lesson when you buy 4x30 minute lessons. He gave this testimonial/review via email afterwards...

'I took up the offer of the 4x30 min lessons with a free 6 hole playing lesson with John last week. The course was pretty well frozen but after playing 18 holes in the morning I was well warmed up especially after a nice lunch in the clubhouse! The suggestion by Joe initially of having the 6 hole playing lesson first to video and watch my general play was a great idea to help John identify a few areas which could then be worked on in the lessons to follow.

The 6 hole lesson was very good and as well as identifying those initial areas to work on, it was great to walk a few holes with John and get some good tips on course management and percentage play, one of my weaknesses I think. Most of these were unfortunately from the rough but given that's where most of my second shots usually are from this was great.

I've now received some detailed notes including photos (which are really useful to highlight points) to set out the areas to work on, and am looking forward to getting started soon.'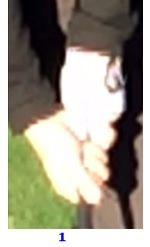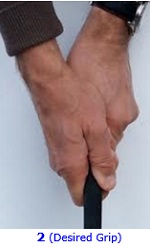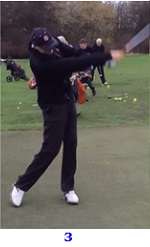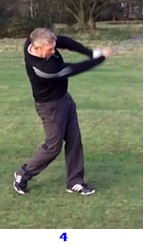 I will keep the analysis brief, but being able to get on the course and see James hit all his different clubs/shots 'under pressure' is very beneficial. I've lost count of how many times people comment that they're Rory McIlroy on the range yet Roy Cropper on the course. Well, getting out there and being analysed really helps!

So, in image 1 you can see James' current grip. Having this strong grip will really impede his ability to release the club properly, resulting in this 'holding off' type cricket shot position we see in image 4. Saying this, James has what many natural sportsmen have, a great ability to 'figure out' how to get the ball to target, meaning he can play to a good standard without fixing some of the issues that would cause other people more difficulty. However, we've both acknowledged that if we can tweak the grip and impact/release then we could really see some great results, with a much more consistent long game on its way.
If anybody is interested in taking up the 4x30min lessons and a FOC 6 hole playing lesson deal, please click here to enquire, or ask in store.