LADIES GET INTO GOLF
Ladies Beginner Group Lessons At The Alwoodley Golf Club
Our Ladies Group Coaching sessions will be fun and friendly making it very easy to give golf a go without feeling at all intimidated. Any fears about not being very good are soon put to rest when you learn thateveryone misses it, tops it and sends it sideways to begin with!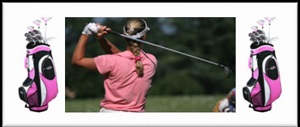 We have put together a course of five sessions that last for one hour each and cover all aspects of the game plus rules and etiquette and will even involve going out on the course. You do not need to have any clubs or experience nor do you have to be a member of the golf club.
Let's Get Started - On the Green - Date: TBC
Introduction to Putting.
Around the Green - Date: TBC
Introduction to Chipping.
The Basics - Date: TBC
Introduction to the clubs. The full shot set up and short swing.
Building Blocks - Date: TBC
Basic Swing Development.
On the Course - Date: TBC
An on course lesson.
After each session an e-mail reminder of the skills learnt will be sent.
These sessions are a great opportunity to learn a new skill, have fun, meet other lady golfers and forge new friendships.
The cost for the course of five sessions is £60.00
If you would like more information and to book your place please e-mail; john.green@foremostgolf.com or call 0113 2689603.
Some of the comments from previous year's sessions have been very positive and pleasing:
"I thoroughly enjoyed the group lessons that have taken place over the past year. I would not have believed a year ago that I would be able to drive, chip and putt but with John's patience, guidance and humour, I can! Learning with others has been great fun and as a result I have several friends to begin playing golf with, I cannot recommend John highly enough."
Warm wishes,
Debra.
"I took an interest in golf last year as my husband is a keen golfer and had been encouraging me to play for some time. I was apprehensive at first, but little did I know that I would be involved in some fun group lessons with other like-minded ladies! I have been taught by John who has shown great patience and dedication to myself and the ladies in my group. The lessons have been enjoyable and have allowed me to progress into becoming a playing member at the club! I am continuing my lessons with John to help improve my game and cannot thank him enough for helping me to get the most out of my new hobby. I can highly recommend the group lessons with John at Alwoodley Golf club. They are well structured to meet all abilities but most importantly they are fun. It is a great way to take up golf and make some new friends along the way! "

Adrienne
"I have been one of six new lady golfers under John's tutelage over the past couple of months. After years of showing no interest or appetite for golf, despite my husband's pestering, I did not expect either to enjoy it or be gripped by the game. Having finally been persuaded to try, John's expert coaching, encouragement and support for us all has completely won me over. More than anything he has made it fun to participate and has provided the impetus for me to continue further.
John has put in a terrific amount of thought and effort into the sessions and made us all (as have the Alwoodley lady members) feel very welcome at the club. I might even have improved along the way!!
Janet Ledger
"Over the last year I have had both individual and group lessons with John. I am a complete beginner at golf so I was very relieved to find a group of friends who were of a similar standard. The lessons have been firstly great fun, instructive and tailor made to each individual. John is very encouraging and the lesson notes he provides give very clear instructions as to what we should be aiming to achieve.
The beginner lessons are excellent value and have given me the confidence to continue trying to conquer this game! Thank you John for the very enjoyable lessons, taking up golf has been one of my best New Year resolutions!"
Rosey James
If you would like to book please click here.