Winter 2018

Dan Murphy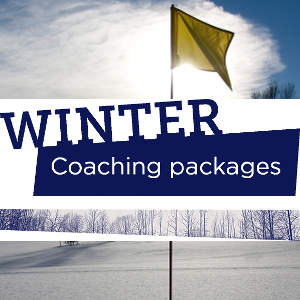 Dan Murphy made it to the final of the Scratch Knockout and the final of the Crawford Trophy, after investing in my inter coaching package.
This is what Dan had to say about the programme:
"The winter coaching programme gave a sense of purpose to my golf over the long off-season months.
It also provided an incentive to practise in between the lessons because I had something to work on. A little often is a great way to learn for me so a series of half-hour lessons was just right.
We established a plan before we started in the warmth of the card room and that gave us structure for the months ahead. John and I worked on parts of my game that had been a long-term weakness because we had the time to get to the root of the problem rather than make do with a patch-up fix."
---


05 October 2015
Chris Booth
Thanks for the lesson, and notes. I was religious in adopting the PSR (Pre-shot Routine) we created, and it appeared to work incredibly well - I hit 80% of fairways, probably 50% of greens in regulation, but then chipped well if I did not.
It felt like I was playing "proper" golf again, with a 77 on the morning round (albeit on the relatively short Gullane 3, par 68).
Talk soon John, and thanks again!
---
25 October 2013
Peter Varley

Thank you for the lesson. It was really useful and thoroughly enjoyed it. Am planning on getting some practice in at a driving range and will certainly be in touch for another lesson.
---
26 September 2013
Bill Hartley
More distance for Bill
Bill Hartley came to me in search of some extra length from the tee. His current Driver was a 10+year old Callaway Driver which Bill rightly thought could be improved on. After a discussion about the current shots and distances Bill was hitting, we agreed to book in for a Driver fitting. We got a selection of options together, and headed to the range to check how much extra distance we could achieve. After using the Vector Launch Monitor fitting machine (as well as some AIZ John Green nouse!) we had a great set of results to base our decision on:
Bill eventually purchased the PING G25 model of Driver with 12.5 degrees loft and a soft-regular flex shaft. As you can see, Bill's club head speed was pretty consistent throughout, at 72-73 miles per hour, yet by the end of the fitting we had some good averages, in which Bill had gained 13 yards.
There is a common misconception that lower lofts on the Driver will result in hitting the ball further. This is often not the case, especially in the Drivers nowadays where backspin rates are much reduced. Bill's carry was upped nine yards from the extra loft on the club, yet the reduced backspin rates also meant he got four yards more roll.
Armed with the info above Bill also updated his irons and on his very first full round with the new clubs he wiped the field in a skins game against his pals, winning all 18 skins!
Many thanks to Bill for choosing the AIZ.
---
28th May 2013
Sue Mason
"I was given John's improvement package as a birthday present. I learned a lot from having an extended and thorough spring-clean of my game, which it needed. Everything was tailored to my playing style and my lack of spare time and included some interesting practice drills (I hate practising). The initial six holes on the course really sorts out the areas of your game that need improvement and an experienced eye looking through your clubs sorts those out too. John updated my 'plan of action' after each lesson - which helped me to remember what I'd been taught and now gives me something to refer to. The suggestion is that I build on the lessons through the winter and return for an up-date in the Spring. I thought the whole thing was a bargain and very good fun"
---
28th May 2013
Quentin Fraser

"Excellent analysis. I am really impressed with TAGC's 21st Century methods."

---
28th May 2013
Damion Guckian
Recently retired Damion Guckian is looking to enjoy playing more golf and as his clubs were a few years old Damion, in order to get the best advice as to what equipment would suit his game booked a fitting at the AIZ. In the fitting we embarked a four stage process.
Stage 1: We discussed Damions goals and aspirations and tried various demo clubs. Then assessed with the help of the Vector Launch Monitor the most suited shaft flex.
Stage 2: With the benefit of my experience and Damions feel we decided upon the correct length of shaft.
Stage 3: With the help of the lie board and lie angle tape we determined the correct lie angle.
Stage 4: Again with the benefit of my experience and Damions feel we determined the correct size of grip.

The decisions after each stage were as follows:
Stage 1: The Vector figures below show a swing speed in the mid 70's mph. This helped us decide upon a graphite 'A' flex shaft. After hitting a few different clubs the Tour Edge Bazooka HT Max D 15 deg, draw bias driver was a clear winner. The figures show a good improvement on Damion's old driver. As the Tour Edge was the best Damion decided to match the rest of the set with the driver.
Stage 2: We decided that standard length clubs were best suited to Damion.
Stage 3: The lie tape helped us conclude that one degree upright was correct for Damion.
Stage 4: Damion has larger than average hands so, for the perfect fit we decided to add two extra layers of tape to the grip.
All that was left was to decide upon the make up of the set. After trying a few clubs and with my advice Damion added to the driver, a 19 deg five wood, a 22 deg hybrid and five iron to sand wedge.
The clubs were delivered in 10 days so Damion, like a child on Christmas morning came up to try them on the course and as Damion left the course he said "These clubs have made a significant difference, in nine holes I scored four pars and a birdie two on the seventh" - not bad for a 19 handicaper!
So another great result form the AIZ. Damion thanks very much for the business it is much appreciated.
---
28th May 2013
Eugene Reddington
After working on his swing with the AIZ, Eugene Reddington found that he was hitting his Driver much straighter but a little too high. He felt that a properly fitted Driver could give that lower trajectory and add a few important yards without losing too much accuracy. The chart below shows some of the the actual average numbers taken from the Vector Pro Launch Monitor. The challenge I had was to find a Club that hit the ball a little lower but did not have too much side spin. You can see that Eugene's 13 degree Driver was launching the ball into a very high trajectory with a lot of backspin. My solution was the TaylorMade R1 set to 10.5 degree loft and with maximum draw bias. You can see the launch angle changed dramatically and the back spin rate came down a little, this means that the ball flew with a lower trajectory and you can see that it had a few more yards of roll. The compromise was that with less loft the side spin went up a little but with a bit more work at the AIZ we will straighten this up. The total gain was 11 yards, which isn't dramatic but it will really make a difference on the course. The AIZ strikes again!

Eugene emailed me with:
"John just wanted to say a big thank you for the time you've spent over the last couple of weeks sorting out my new Driver, over that time we've had a look at quite a few different Clubs, lofts and shafts and I think that you've helped my get to the right Club for my game, many thanks once again, regards Eugene"
---
23rd May 2013
John Smith
AIZ Helps John Smith to Victory
It was great to see John Smith win the Easter Foursomes because he has recently undergone a few small swing changes at the AIZ and put in his bag a new Tour Edge Bazooka HT Max driver, custom fitted at the AIZ. John's TaylorMade Driver had done some sterling work for a number of years but a combination of new technology and a less brisk swing pushed John to seek my advice.
The figures below are taken from the Vector Launch Monitor and show that the TaylorMade stiff shafted 9.5 degree Driver was launching the ball on a low trajectory but with quite a lot of back spin, two factors that do not give optimum distance.
You can see that with almost the same swing speed the regular shafted Tour Edge Bazooka HT Max 12 degree Driver launched the ball higher with less spin. Together both these factors have given John an extra 22 yards carry with no loss of roll once the ball hits the ground. John said after his win "for me the Bazooka Driver made the difference". So another great result from the AIZ!
---
09 November 2013
Stuart Bell
Thanks for this John. I thought the lesson really helped and even when playing 1, 2, 17 and 18 afterwards it made a difference to the approach to my short game. I can even think about 'enjoying the challenge'!
---
09 November 2013
Jason Roberts
Thanks for that, (the after lesson notes and images) I have to say I am very impressed, it makes it far more useful than just a lesson. I went to Spofforth driving range yesterday and it was good, well mostly!
---
26 October 2013
Jim Dickson
36 Yards Gained with New Custom Fit Driver
Jim Dickson felt like he was missing out on vital yards off the tee, so booked a Driver fitting with Jack to see if there was anything that could better his old trusty R11. We set up the Vector Launch Monitor to compare his old Driver with some different 'current' Drivers to see what the results would be. After just a few shots it was clear that Jim was launching the ball too low and with too much spin causing him to lose a lot of distance. So we gave Jim a couple of Drivers with more loft and a stiffer shaft and these were the result:
You can see in the results that there was instant improvement in launch conditions with the two new Drivers and 30+ more yards without a change in technique. Jim decided to go with the new Titleist Driver, as not only was it going the furthest, but with the new forged face insert on the 913 the drives were much more consistent. The AIZ strikes again!