The right way to get your golf equipment?
Invest in the best result, don't buy hope!
Assessment
We look at, and talk to you, about your golf swing. We want to determine which technology options will work for your swing and deliver you the quickest and biggest improvements.
Fitting
A Professional fitting puts you in the right configuration - shaft type, weight, flex and length; lie angle and loft; and grip size - to allow you to go further and straighter, to get closer to the pins and to be more consistent.
Swing Check
Now we put it all together - any setup improvements, my swing advice, your fitted equipment - and check the results together.
Providing you with expert coaching & knowledge and the latest equipment solutions to improve your game with an unparalleled service that suits your every need.
CUSTOM FIT
''The next time you purchase equipment, there are a few important issues to remember. Spending a little extra time customising your clubs is going to make a difference; a lesson or two before and after a club fitting will ensure the best result; even a small change to your existing clubs can have a major impact; and lastly, the technology is there for you - take advantage of it!''
THE '7' CUSTOM FITTING CHECKS
1. Shaft length - determines where on the clubface the ball is consistently struck.
2. Lie angle - the angle between the ground and the sole of the clubhead. This influences your shot shape.
3. Shaft flex - determines trajectory, accuracy, distance, and consistency.
4. Shaft type - Graphite shafts help you to get distance and height. Steel shafts are more controllable.
5. Grip size - The thickness of the grip determines how quickly you release the clubhead.
6. Club head design - determines the amount of workability and forgiveness.
7. Set make up - do you use hybrids instead of long irons and how many wedges do you carry?
Our in house loft and lie machine can bring about all the changes needed to personalize your clubs to suit your unique set up and swing.
The GC2 Launch Monitor
The GC2 Launch Monitor delivers all of the information needed to fit clubs and balls.
The GC2 Launch Monitor can be used for Drivers, Irons, Rescue Clubs, Woods and Hybrids.
The GC2 Launch Monitor can be used for ball fitting.
The GC2 Launch Monitor can be used indoors or outdoors, left or right handed.
The GC2 Launch Monitor measures launch angle and ball speed.
The GC2 Launch Monitor measures backspin, sidespin and side angle of every shot.
If you would like to book a fitting please click here.
Patrick Bousfield's Solution.
Like most of us, Patrick Bousfield was looking for a driver that would nudge him further down the fairway that didn't break the bank.
On the course, Patrick had tried a 'previously enjoyed' Callaway Big Bertha driver which was a great price, but just didn't do the job. Before he went any further I suggested we got out on the range with the GC2 Launch Monitor to get some numbers so I could professionally advise him.
After a few shots with his old faithful PING driver and with the regular shafted Callaway I thought I had a good chance to beat both. After a bit of trial and error the best fit was the Titleist 917 D2 Driver set at 9.75 degree loft with some draw bias and a Lite shaft.
The numbers below tell the story. With the PING Patrick was hitting the ball too high with too much side spin and back spin. The Callaway was a smidge better, but the side spin and back spin were draining the distance. A lower launch added to less side spin and less back swing made the Titleist a winner and when I mentioned it was on offer Patrick was cock-a-hoop!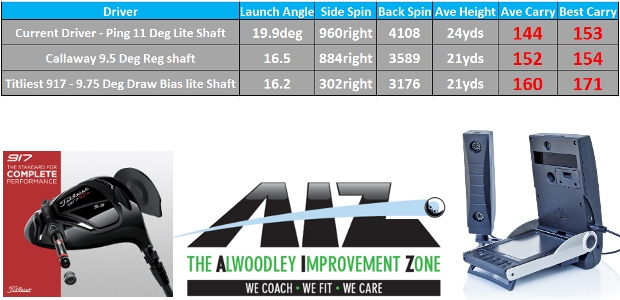 Rick Hartley goes Rogue.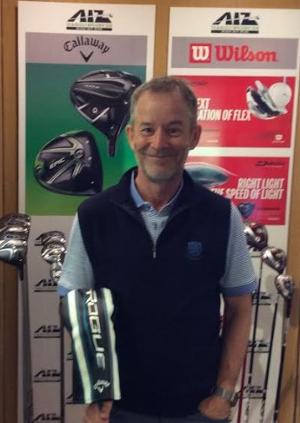 With the help of AIZ Lessons, AIZ Club Fittings and hard work, Rick Hartley's game has improved massively over the last few years. However, he felt that his driver could be improved on, so he booked a fitting. His trusty driver of the last few years was a PING G that had done him proud and I did say that it could be difficult to beat.
We started with the latest PING edition, the G400 and this was good, but didn't give the gain he hoped for. Rick's shot shape was a pretty consistent solid fade. So I set up the Callaway Rogue with a smidge more loft and a draw bias. This did the trick with less side spin and a few more yards. Job done. The AIZ strikes again.
Many thanks for the business Rick it is very much appreciated.
- PING G 11* - 223 carry
- PING G400 11* - 225 carry
- Rogue 11.5* draw biased - 236 carry

Neil Crowther Custom Fit Story
In between the snow showers Neil Crowther came along for a driver fitting. Those that know and play with Neil will tell you that Neil hits the ball miles, but can struggle to keep the ball in play due to a bit of a hook. So I set about giving Neil the best fit and advice possible.
The GC2 numbers above show how the fitting went. We tried the G400 Max first but this made Neil's hook worse with lots of side spin to the left. The Titleist 917 was better but the Epic and the M3 really made a difference. You can see that both of these turned Neil's hook into a very small fade with both going miles! After a few hits with both Neil decided he liked the look and feel of the M3 best so the fitting was complete.
Since purchasing his new driver Neil has moved up the Winter Winds leader board and with partner Jack has won through to the final of the Winter Foursomes. The AIZ strikes again!

When Carol Briggs came looking for a new driver she asked all the right questions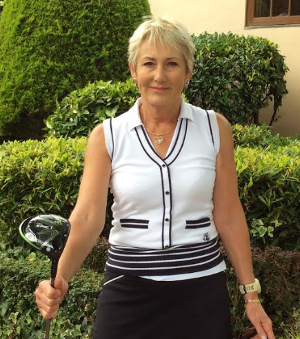 What is the best shaft for me?
What is the best loft for me?
Do I need an adjustable driver?
Will it give me consistency?
Will it hit the ball further?
Does it look good?
Does it sound right?
Well here at the AIZ we set about answering these questions. With the help of the DNA Shaft App, we started by deciding on the best shaft. Then with the help of the GC2 Launch Monitor and my experience we tested a few different brands and settings to find the perfect fit.
Then Carol took a couple of clubs away to try on the course. Then we carried out a final fitting.
The result of this thorough fitting was that the Callaway Epic driver answered all of these questions and the GC2 numbers below confirmed this.

The Epic's technology upped the ball speed, we added loft to up the launch angle and a crucial part of this fit was the draw bias which dramatically eradicated almost all of the side spin. All of this resulted in a 19 yard carry gain. The AIZ strikes again!
New Driver for Annie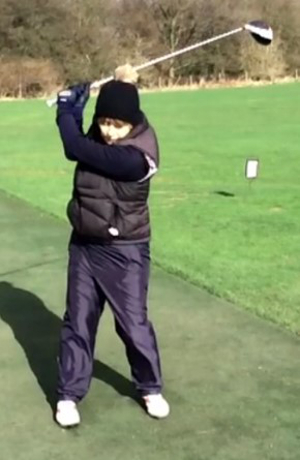 Annie Wildblood's lovely husband Michael decided to buy her a new driver for Christmas. So, for wrapping purposes a driver was taken with a Fitting Voucher for the big day.
Then a few weeks ago Annie and I met for a fitting and with the help of the GC2 Launch Monitor we narrowed it down to the Callaway XR Driver 14.5 degree loft. This after a bit of encouragement from me got the ball carrying a good distance. However with the New TaylorMade M2 just about to be delivered we decided to wait for this and have a shoot-out between this and the Callaway.
Last week the TaylorMade arrived so we excitedly took to the range to compare. After a few warm up shots Annie hit a number of shots with each club under the watchful eye of myself and the GC2 Launch Monitor. Both clubs gave very good distances but the TaylorMade M2 edged it for carry distance and just as importantly off centre distance and accuracy.
So the TaylorMade M2 set to 14 degree loft was taken away by an excited Annie.
Annie, seen here winding up for another smashed drive with the TaylorMade M2.

Fantastic Fairway for Alan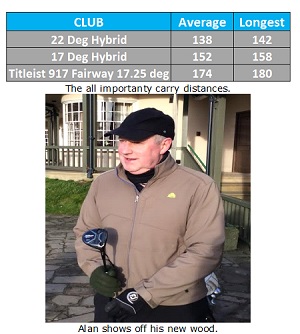 During the assessment stage in Alan Yates's winter coaching program we identified Alan's three wood as a challenging club. It wasn't custom fit and I believed that, for Alan the 15 degree loft was too strong for a club predominantly hit from the fairway. By now it was gathering dust in his locker! So last week we set about finding a more hittable replacement.
With the help of the GC2 Launch Monitor we measured the carry distances of Alan's two hybrids, then tried a few different makes and models. It was a close run thing but the club that came out on top was the Titleist 917 F2. After a bit of trial and error we ended up setting this to 17.25 degree loft with no draw or fade bias. This certainly gave Alan the distance he wished but, more importantly it is a club that can be whacked with a good deal of confidence from a decent lie on the fairway and from the tee.
The AIZ Strikes Again!
James Crawford - Success with the PING G30
James Crawford came for a fitting last week, stating he never used his current Callaway Big Bertha driver as it was very hard to hit. I took a look at the small headed driver and instantly thought we could go about changing that. I tried James with a few drivers and quickly saw that he would benefit from the slightly heavier and stiffer tour regular shaft put in the PING G30.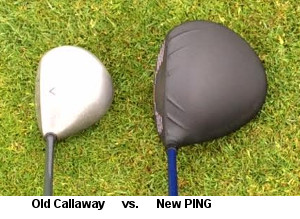 James instantly started flighting the ball brilliantly, averaging almost 230 carry which is a complete game changer for him. James sent an email afterwards saying, 'Many thanks for your help. I can't believe the success on Saturday and am just hoping I can replicate on the course!'
Look at the difference in club head size, look at the old Callaway Big Bertha driver vs. the New PING G30 driver.
Technology has moved on so much in the past few years, I can assure you it's absolutely worthwhile having a fitting with the modern day technology. Click here to enquire.


Finlayson Fires it further and Straighter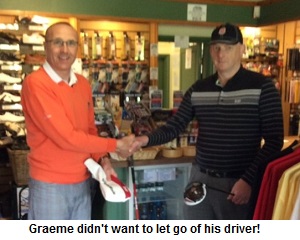 While playing our captain pro match a couple of weeks ago I got the feeling that six handicap Graeme Finlayson would benefit from a better fitted driver. Graeme bought his TaylorMade Burner driver from another supplier three years ago and has got on with it okay despite a low-ish left to right shot shape. So a fitting was booked and we went to the range with the GC2 Launch Monitor, a selection of drivers and my expertise. After hitting a few well struck shots with the old TaylorMade, the numbers showed a low-ish launch angle, high back spin and an uncomfortable amount of side spin. After trying one or two different drivers with a more suitable set up (Callaway XR, PING G30, TaylorMade R15) the TaylorMade R15 came out on top. The figures below shows the actual average numbers taken from shots hit by Graeme. The softer, lighter shaft added a few mph to the ball speed


The 12 deg loft got the ball launching higher. The R15 Technology took backspin off the ball. The most telling number was that the side spin was dramatically reduced by the R15's draw setting. So with a more modern professionally fit driver Graeme, with no swing change left with a driver that had less fade and carried through the air a full 33 yards further.
Graeme Remarked "I bought my old driver, believing it was right for me but with John's help and the GC2 numbers this is an amazing improvement and I can't wait to get out on the course"
Fitting gives Dave extra yards and more consistency
Dave Watson has been using his PING G10 driver for a few years and recently thought he would put the AIZ and the latest technology to the test to see if a more consistent driver could be found. So armed with a few different options and the state of the art GC2 Launch Monitor we made our way to the range. After hitting a few shots with the G10, with the help of the GC2 I could tell that David was launching the ball pretty low and with too much back spin. I recommended that a regular shafted driver with 14.5 degrees of loft would give greater consistency and could even add a few yards of carry. So we tried the TaylorMade JetSpeed and the Callaway X2 Hot drivers both set to my suggested specification. The results can be seen below and the important numbers for Dave were the side spin and the carry. The carry was up by 20 yards with each club and the side spin was substantially down with each club. The factors that encouraged these results were the much increased launch angle and the reduction in back spin.
After hitting a few more shots with each club Dave opted for the Taylor Made as it sounded more solid. So the AIZ strikes again. If you would like to challenge us to find a better club for you game please click here.
More consistency for Jonte Bousfield
Jonte Bousfield came to Joe recently saying he was struggling for consistency off the tee. Joe went out with him and it was clear to see why... Jonte had an extremely fast swing and a standard lightweight stiff shaft in his Nike driver.
To straighten him up, Joe got in a Callaway X2 Hot driver with a heavy extra stiff shaft. The pair then went out on to the range, and whilst the distance was up, the dispersion was only slightly better. As many of the strikes were not centred on the clubface, Joe cut two inches off the club and gave it back to Jonty. With the new shorter club the strikes improved and so did the accuracy! Jonty was instantly sold and had this to say in the following days:
"I'd just say the couple of changes to my driver has definitely brought more control to my driving game and although unneeded, my distance has improved by a good 10-15 yards. I had a couple of sessions with Joe who took his analysis away and brought me back a couple of options. Since trying and purchasing the Callaway X2 Hot Driver I have seen a good improvement in both accuracy and distance with a shorter and stiffer shaft bringing about the control which Joe recommended trying to achieve, I even drove into greenside bunkers on consecutive holes (5 and 6) last weekend, albeit downwind!"
Iqbal Gains Consistency with fitted driver
Iqbal Khan recently came for a driver fitting with me as he was struggling for consistency with his TaylorMade Burner driver. We put him on the GC2 launch monitor and immediately saw he was hitting his driver too low and the shape was varying from shot to shot. Looking at the figures it was apparent that Iqbal's ball speed of 150mph warranted a stiffer shaft than the regular flex he was using. This low launch angle and soft shaft was resulting in a lot of low-left shots.
We got a TaylorMade SLDR driver and set it to 14degrees loft and put a stiff shaft in there. This instantly straightened Iqbal up and improved his peak height by eight yards because his launch angle went up from 8.7 degrees to 13.2.

A more consistent and higher ball flight is brilliant, but combine that with an extra 12 yards carry and that's a very successful fitting!
Jimmy Gribbon
Assistant Pro Joe recently carried out a custom fit session with Jimmy Gribbon. Jim had an old set of PING irons that were providing him with a few inconsistencies in his game and were making scoring more of a challenge.
Jim mentioned he often gets a little left to right curvature on his shots so after trying a few different models we settled on the new G30 with its offset head which helps minimise the left to right shot. Also to slow down the fade we made the clubs a little more upright (the toe of the club is off the ground at set up) which aids getting the ball curving the other way. This is a really quick and easy way to fix your ball flights without working on your game and a lot of the top players do this.
Shaft wise, Jim was just in the stiff bracket. However Joe recommended a heavy regular shaft as it slowed Jimmy's swing down just a touch and combined with the extra weight will help with Jims shot dispersion and still gave him a few extra yards. So the new technology added to a personal Custom Fitting at the AIZ wins again!
Lower ball flight for Jonny Crew.
Jonny Crew has always liked to keep his golf equipment up to date and fitted to his golf game and it seems that this is really helping him improve. He is having a great year that has seen his handicap cut by a quarter from 12 to nine. Jonny was now looking to keep that downward trend going by updating his PING i15 irons. So with the help of the GC2 launch Monitor and my expertise we set about finding the best model and just as importantly the correct fitting club. After trying a few irons Jonny chose the PING i25 iron because he liked the looks, the forgiveness and the soft feel. The GC2 numbers indicated that a Steel Regular Shaft would be best. After using the 'lie board' we decided on the blue colour code. Then we agreed that each club should be lengthened by ¾ of an inch and the slightly thicker gold code of grip would be best. Finally, as Jonny tends to hit the ball very high I recommended that we de-loft each club by one degree. This resulted in a set of irons that, like every set sold at the AIZ was truly custom fit to the individual.
At the end of the fitting I had a quick look at Jonny's swing to highlight where possible improvement could be made and I hope Jonny doesn't mind me sharing his lesson notes.
This is what Jonny had to say after the fitting and lesson:
"Having decided to buy some new irons I was really pleased with the advice given by John in the fitting/lesson. The fitting covered set up, the correct shaft flex for me, the correct width of grip and we even slightly "delofted" the irons to suit my game. The visual aids John showed me were really helpful and I now feel confident that I have the right equipment to suit my game, the rest is up to me. The lesson was really useful too, rather than bombard me with things to practice on, we worked on one specific area and I saw immediate improvement"
Oh and by the way in his first event with the new clubs, the Blue tee Medal Jonny achieved a further small reduction in his handicap.
If you would like to see which clubs fit your game best click here or ring the AIZ on 0113 2689603
Peter Naylor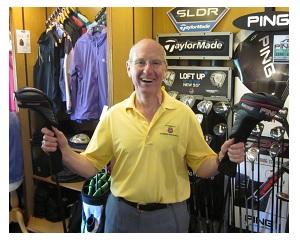 Peter Naylor is not one to change his clubs on a whim so when he came to the AIZ looking to upgrade we knew we had to do our very best for him. So with the use of the GC2 Launch Monitor we started by confirming the correct shaft for Peter and the best fitting driver. Then we looked to matching the driver with a well suited, easy to hit consistent fairway wood. The winning clubs were the Ping G25 12 degree driver (set to 12.5 degrees) and the Ping G25 seven wood, both with graphite soft regular shafts. The impact of these clubs was felt on the very first hole Peter played with them. Peter nailed a driver down the first then with his natural great rhythm he struck a seven wood towards the pin. In the early morning light he and his partners did not see the ball finish so they started to look for it behind the green but to no avail. Peter then cheekily looked in the hole and that's where the ball was! An eagle two - driver, seven wood into the hole. I would like to thank Peter of his business it is very much appreciated now all you need is the matching hybrids and irons.......

I can't guarantee that you will have the immediate success Peter had but if you're making do with a clubs you weren't fitted for or that are some years old... book in today to see how much distance and accuracy you could gain. Click here for a booking or ring the AIZ on 0113 2689603
Dave Knight Gains 25 Yards of Carry

Dave Knight came to me last week looking to improve his driving consistency and distance. David's old 10.5reg driver was only launching the ball at 9.3 degrees, and had a high backspin rate of 3440rpm. I was ideally looking to get David launching it higher with less backspin to give him the optimum ball flight resulting in more distance. Those that play with Dave will know he hits the ball with a lot of curvature to the right, so perhaps a modern day driver with an adjustable face could help reduce that sidespin.
After trying a few different drivers and lofts, it became apparent that the TaylorMade SLDR adjusted to 14 degrees loft with draw bias was giving David the best results. Amazingly, he gained 25 YARDS CARRY. This was done whilst also reducing the sidespin on the ball by 1119rpm's! So straighter, longer drives for David, who was a very happy customer!

David Waterhouse Fitting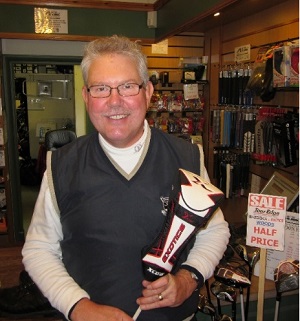 David Waterhouse is looking to improve his game this year so he took advantage of the Full Game Assessment offered by the AIZ. Not only did I highlight areas of David technique that could be improved but I also assessed David's clubs to make sure they were correctly fitted and suited him. Most of David's clubs worked well for him but there were twos areas that I was sure could be improved upon. David's Sand wedge only had 53 degrees of loft and David's driver looked to have too little loft and a shaft that was too stiff and heavy for him.
We decided to tackle the driver first so David booked a Launch Monitor Fitting. In the fitting we started by hitting a number of shots with David's current regular shafted 11 degree driver and you can see the results below. The swing and ball speed suggested that a lighter more flexible shaft would be better and the fairly low 11.3 degree launch angle wasn't getting the ball in the air quick enough for optimum distance. So we tried the Callaway XHot 2, the Taylor Made SLDR and the Tour Edge Exotics drivers, each with a softer shaft and more loft. The results below were very interesting and encouraging for David. Notice how on all the newer models, more loft and a more flexible shaft caused the launch angle to rise and the back spin to come down. The clear winner was the Tour Edge Exotics Driver this gave David an extra 16 yards of carry and David liked the look of it and the feel off the club face.

After David's first full round he came into the shop and said 'that driver is great, I hit nearly every fairway and it definitely went further'. So the AIZ strikes again! I look forward to helping David make further improvements in the future.

Steve Ellis Gains Consistency
Steve Ellis came for a Driver fitting recently. He was hitting his 10 year old TaylorMade okay, but was wondering if we could help him find more consistency. Steve's stock shot was a low draw that could easily turn into a hook. So, we were ideally looking to heighten and straighten the shot shape.
After checking the figures on the launch monitor, it was clear Steve was struggling with the problems he'd outlined. As with most golfers, Steve was hitting his Driver too low for optimal performance. Even Steve's good drives were launching very low (9 degrees), without enough backspin to get them airborne.
Steve loved the looks of the Titleist Drivers, so we gave him the Titleist 913 D2 and tweaked the settings on it to add loft and slightly open the club face. Steve instantly started launching it a 1.9 degrees higher, with more of backspin. This meant more height, longer flight time, more carry, less curvature in the air... and as an added bonus - more distance! In Steve's first event the January Stableford he remarked 'This Driver is fantastic', as he only missed one fairway on his way to winning the competition with 36 points and seeing his handicap reduce to five.

Jim Dickson Gains 36 Yards with New Custom Fit Driver
Jim Dickson felt like he was missing out on vital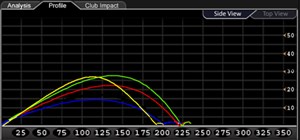 yards off the tee, so booked a Driver fitting with Jack to see if there was anything that could better his old trusty R11. We set up the Vector Launch Monitor to compare his old Driver with some different 'current' Drivers to see what the results would be. After just a few shots it was clear that Jim was launching the ball too low and with too much spin causing him to lose a lot of distance. So we gave Jim a couple of Drivers with more loft and a stiffer shaft and these were the result:
You can see in the results that there was instant improvement in launch conditions with the two new Drivers and 30+ more yards without a change in technique. Jim decided to go with the new Titleist Driver, as not only was it going the furthest, but with the new forged face insert on the 913 the drives were much more consistent. The AIZ strikes again!
More distance for Bill
Bill Hartley came to me in search of some extra length from the tee. His current Driver was a 10+year old Callaway Driver which Bill rightly thought could be improved on. After a discussion about the current shots and distances Bill was hitting, we agreed to book in for a Driver fitting. We got a selection of options together, and headed to the range to check how much extra distance we could achieve. After using the Vector Launch Monitor fitting machine (as well as some AIZ John Green nouse!) we had a great set of results to base our decision on: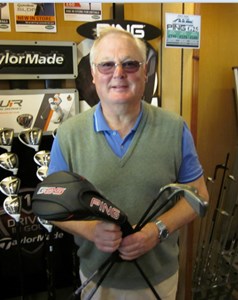 Bill eventually purchased the PING G25 model of Driver with 12.5 degrees loft and a soft-regular flex shaft. As you can see, Bill's club head speed was pretty consistent throughout, at 72-73 miles per hour, yet by the end of the fitting we had some good averages, in which Bill had gained 13 yards.
There is a common misconception that lower lofts on the Driver will result in hitting the ball further. This is often not the case, especially in the Drivers nowadays where backspin rates are much reduced. Bill's carry was upped nine yards from the extra loft on the club, yet the reduced backspin rates also meant he got four yards more roll.
Armed with the info above Bill also updated his irons and on his very first full round with the new clubs he wiped the field in a skins game against his pals, winning all 18 skins!
Many thanks to Bill for choosing the AIZ.
Pars and Birdies for Damion Guckian after AIZ Fitting
Recently retired Damion Guckian is looking to enjoy playing more golf and as his clubs were a few years old, Damion, in order to get the best advice as to what equipment would suit his game, booked a fitting at the AIZ. In the fitting we embarked a four stage process.
Stage 1: We discussed Damions goals and aspirations and tried various demo clubs. Then assessed with the help of the Vector Launch Monitor the most suited shaft flex.
Stage 2: With the benefit of my experience and Damion's feel we decided upon the correct length of shaft.
Stage 3: With the help of the lie board and lie angle tape we determined the correct lie angle.
Stage 4: Again with the benefit of my experience and Damions feel we determined the correct size of grip.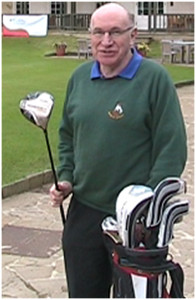 The decisions after each stage were as follows:
Stage 1: The Vector figures above show a swing speed in the mid 70's mph. This helped us decide upon a graphite 'A' flex shaft. After hitting a few different clubs the Tour Edge Bazooka HT Max D 15 deg, draw bias driver was a clear winner. The figures show a good improvement on Damion's old driver. As the Tour Edge was the best Damion decided to match the rest of the set with the driver.
Stage 2: We decided that standard length clubs were best suited to Damion.
Stage 3: The lie tape helped us conclude that one degree upright was correct for Damion.
Stage 4: Damion has larger than average hands so, for the perfect fit we decided to add two extra layers of tape to the grip.
All that was left was to decide upon the make up of the set. After trying a few clubs and with my advice Damion added to the driver, a 19 deg five wood, a 22 deg hybrid and five iron to sand wedge.
The clubs were delivered in 10 days so Damion, like a child on Christmas morning came up to try them on the course and as Damion left the course he said "These clubs have made a significant difference, in nine holes I scored four pars and a birdie two on the seventh" - not bad for a 19 handicaper!
So, another great result form the AIZ. Damion thanks very much for the business, it is much appreciated.
Gain Distance at the AIZ
After working on his swing with the AIZ, Eugene Reddington found that he was hitting his Driver much straighter but a little too high. He felt that a properly fitted Driver could give that lower trajectory and add a few important yards without losing too much accuracy. The chart below shows some of the the actual average numbers taken from the Vector Pro Launch Monitor. The challenge I had was to find a Club that hit the ball a little lower but did not have too much side spin. You can see that Eugene's 13 degree Driver was launching the ball into a very high trajectory with a lot of backspin. My solution was the TaylorMade R1 set to 10.5 degree loft and with maximum draw bias. You can see the launch angle changed dramatically and the back spin rate came down a little, this means that the ball flew with a lower trajectory and you can see that it had a few more yards of roll. The compromise was that with less loft the side spin went up a little but with a bit more work at the AIZ we will straighten this up. The total gain was 11 yards, which isn't dramatic but it will really make a difference on the course. The AIZ strikes again!


Eugene emailed me with:
"John just wanted to say a big thank you for the time you've spent over the last couple of weeks sorting out my new Driver, over that time we've had a look at quite a few different Clubs, lofts and shafts and I think that you've helped my get to the right Club for my game, many thanks once again, regards Eugene"
AIZ Helps John Smith to Victory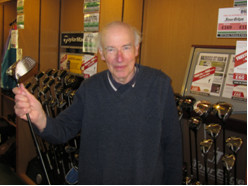 It was great to see John Smith win the Easter Foursomes because he has recently undergone a few small swing changes at the AIZ and put in his bag a new Tour Edge Bazooka HT Max driver, custom fitted at the AIZ.
John's TaylorMade Driver had done some sterling work for a number of years but a combination of new technology and a less brisk swing pushed John to seek my advice.
The figures below are taken from the Vector Launch Monitor and show that the TaylorMade stiff shafted 9.5 degree Driver was launching the ball on a low trajectory but with quite a lot of back spin, two factors that do not give optimum distance.
You can see that with almost the same swing speed the regular shafted Tour Edge Bazooka HT Max 12 degree Driver launched the ball higher with less spin. Together both these factors have given John an extra 22 yards carry with no loss of roll once the ball hits the ground. John said after his win "for me the Bazooka Driver made the difference". So another great result from the AIZ! If you would like to book a fitting and improve your game, contact me and we'll arrange a time that is suitable for you.
Putter Custom Fitting
The Putter is the most commonly used golf club in your bag, so investing in a properly custom fit one is a wise move. Every players putting stroke is unique, every stance, set up, every routine, so don't settle for off the shelve putters, built for 'the average'. When we custom fit a putter we fit it to you and no one else, so that you can be sure you are giving yourself the best possible chance of making each putt.
THE '5' PUTTING CUSTOM FITTING CHECKS
1. Shaft length - determines where on the clubface the ball is consistently struck.
2. Lie angle - the angle between the ground and the sole of the clubhead. This affects launch angle.
3. Grip size - the thickness of the grip determines feel and comfort,
4. Club head design - your compatibility to the head design determines the amount of forgiveness.
5. Weight - vital, depending on the speed of the greens you play on.
Our in house putter loft and lie machine can bring about all the changes needed to personalize the putter to suit your unique set up and stroke.