Tuition
Immediate visual feedback in all lessons.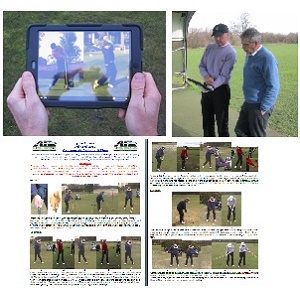 The iPad Air together with the excellent V1 golf app is also something I will be using in the vast majority of my lessons. It allows me to give you, immediate visual feedback and comparisons with professional's swings whilst actually on the range with you. This has already proved a success and has made it even easier to show golfers the desired swing positions we're trying to get to, and how we can do it. Add this to brief post lesson e-mailed notes and you have an unbeatable combination.
I look forward to helping you improve your golf, to book a lesson or custom fit please click here.
What pupils have to say:

Dan Murphy - Putting Lesson
Before going away for weekend golf trip last week, three handicap Dan Murphy came along for a putting lesson and with Dan's blessing I wanted to share with you what we did and Dan's message to me after his trip.
So below is an excerpt from Dan's lesson notes.
After the trip Dan dropped me the following e-mail: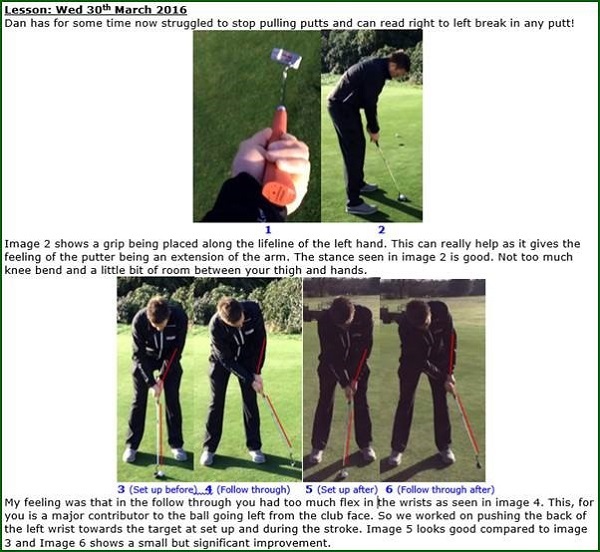 "Thanks for this John, that's really helpful.

Putted loads better over the weekend as a whole (annoyingly hampered by lots of sanded/hollowtined greens!).
Got so many more putts started off on line and more importantly was looking forward to putting again rather than treating it as a chore.

I will come back for another session in early summer.

Also, looking back at the historical pictures, you can see a positive trend in my fundamentals, so that is encouraging."

See you soon and thanks again,
Dan

The AIZ strikes again!

Paul Fox
"'Evening John, many thanks for these notes.
I've really enjoyed reading them, and seeing the supporting visuals which I've found very helpful.
I'm so pleased to see the grip thing so obviously as I now realise I have got the completely wrong thing in my mind, as my left hand is the problem, not my right as I thought so simple.
Also I now fully see the alignment issue which I've always known was an issue.
Equally enlightening is the left knee issue, staggering to see it so obviously portrayed on film and especially when you see how it should be done.
Can't wait to get stuck into those issues and better understand them and some possible drills to use for practice.
I feel better already from reading the notes and knowing not everything is completely a lost cause and that actually confidence and practice are down to me.
I'm very committed to getting stuck into it this year and just need some pointers to be working on.
I will also commit to the drills and stats you have suggested as I really do need to understand the relevance and accountability better.
Many thanks really appreciate those comments and heads up.
It was important for me to see all the issues and the connectivity in context.
Looking forward to getting on the range, and then shortly thereafter the course.
See you Saturday at 2.45pm
Many thanks again"
Stuart Bell
"Thanks for this John. I thought the lesson really helped and even when playing 1, 2, 17 and 18 afterwards it made a difference to the approach to my short game. I can even think about 'enjoying the challenge!"
---
Jason Roberts
"Thanks for that, (the after lesson notes and images) I have to say I am very impressed, it makes it far more useful than just a lesson. I went to Spofforth driving range yesterday and it was good, well mostly!"
---
Peter Varley
"Thank you for the lesson. It was really useful and thoroughly enjoyed it. Am planning on getting some practice in at a driving range and will certainly be in touch for another lesson."
---
Quentin Fraser
"Excellent analysis. I am really impressed with TAGC's 21st Century methods."